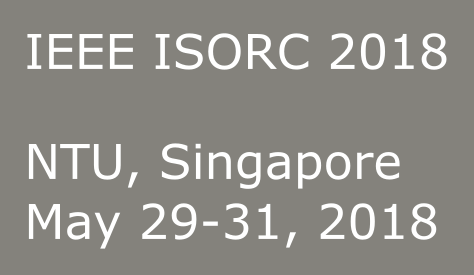 WELCOME TO THE IEEE ISORC 2018
IEEE ISORC was founded in 1998 (with its first meeting in Kyoto, Japan) to address research into the application of real-time object-oriented distributed technology. Since then, ISORC has continually evolved to meet the latest challenges faced by researchers and practitioners in the real-time domain, with an emphasis on object-, component- and service- oriented systems and solutions..
ISORC is a single-track conference, with a low acceptance rate and a lively community. We host a number of associated workshops, and are proud of our spirit of openness. We seek to encourage diverse views and new approaches to all Real-Time Issues and Challenges for novel applications and systems in RT computing issues.
Best papers from ISORC 2018 will be invited for submission to a Special Issue of Journal of Systems Architecture. More information.
Key Dates:
Submission deadline: Feb. 2, 2018
New submission deadline: Feb. 14, 2018
Acceptance notification: Mar. 19, 2018
Camera-ready papers: Mar. 26, 2018
Early registration (for authors): Mar. 30, 2018
Early registration (for non-authors): Apr. 30, 2018
Conference: May. 29-31, 2018

For our 21st symposium, we are meeting in Nanyang Technogical University(NTU), in Singapore from May 29 - 31, 2018. Our meetings will take place at Nanyang Executive Centre, NTU. For more information on IEEE ISORC 2018 and its location, calls for papers, workshops, and events, please use the menu bar at the top of the screen. We look forward to seeing you in Singapore in May 2018!
Keynote Speakers
Abhik Roychoudhury, National University of Singapore

Title: From Timing and Energy Analysis to Testing

Abstract: Worst-case execution time (WCET) analysis of real-time software aids in schedulability decisions. In the recent past, worst case response time (WCRT) aware system designs have been studied, specifically in the context of mulit-core systems. In this talk, we will first focus on formal WCRT analysis of software for multi-cores with detailed modeling of shared bus/caches as embodied in the extended Chronos analysis tool for multi-cores. As a by-product of the platform modeling in timing analysis, systematic test generation capturing a spectrum of timing behavior can be identified. This contrasts with the alternative approach where measurements are used to generate tests capturing pernicious timing / energy behavior. We will study the pro-s and cons of both approaches in concrete settings. The ability to generate tests from platform timing models, also opens up the possibility of generating tests to demonstrate cache side channel attacks as embodied in the latest Meltdown and Spectre attacks.

Biography: Abhik Roychoudhury is a Professor of Computer Science at National University of Singapore. His research focuses on software testing and analysis, software security and trust-worthy software construction. He has been an ACM Distinguished Speaker (2013-19), and head of the TSUNAMi center on software security at NUS. He is also the Lead Principal Investigator of the Singapore Cyber-security Consortium, which is a consortium of over 30 companies engaging with academia for research and collaboration. He has served as Program Chair of ACM International Symposium on Software Testing and Analysis (ISSTA) 2016, Editorial Board member of IEEE Transactions on Software Engineering (TSE) (2014-20), and General Chair of ACM SIGSOFT Symposium on Foundations of Software Engineering (FSE) 2022. Abhik received his Ph.D. in Computer Science from the State University of New York at Stony Brook in 2000.

Gabor Karsai, Vanderbilt University, USA

Title: Towards Assurance-based Learning-enabled Cyber-Physical Systems

Abstract: Cyber-Physical Systems (CPS) are increasingly incorporating what one can call Learning-Enabled Components (LEC) to implement complex functions. By LEC we mean a component (typically, but not exclusively, implemented in software) that is realized with the help of data-driven techniques, like machine learning. For example, an LEC in an autonomous car can implement a lane follower function such that one trains an appropriate convolutional neural network with a stream of images of the road as input and the observed actions of a human driver as output. The claim is that such LEC built via supervised learning is easier to implement than building a very complex, image processing driven control system that steers the car such that it stays on the road. In other words, if the straightforward design and engineering is too difficult, a neural network can do the job – after sufficient amount of training. For high-consequence systems the challenge is to prove that the resulting system is safe: it does no harm, and it is live: it accomplishes its goals. Safety is perhaps the foremost problem in autonomous vehicles, especially for ones that operate in a less-regulated environment, like the road network. The traditional technology for proving the safety of systems is based on extensively documented but often informal arguments – that are very hard to apply to CPS with LEC. The talk will focus on a recently started project that aims at changing this paradigm by introducing (1) formal verification techniques whenever possible (including proving properties of the 'learned' component), and (2) formalizing the safety case argumentation process so that it can be dynamically evaluated. The application target is autonomous vehicles, with significant, but not exclusively used LECs. The goal is to construct an engineering process and a supporting toolchain that can be used for the systematic assurance of CPS with LECs.

Biography: Dr. Gabor Karsai is a Professor of Electrical Engineering and Computer Science at Vanderbilt University, and Senior Research Scientist at the Institute for Software-Integrated Systems. He has over thirty years of experience in software engineering. He conducts research in the design and implementation of embedded systems, in programming tools for visual programming environments, in the theory and practice of model-integrated computing, and in resource management and scheduling systems. He received his Diploma, MSc, and Dr. Techn. degrees from the Technical University of Budapest, Hungary, in 1982, 1984 and 1988, respectively, and his PhD from Vanderbilt University in 1988. He has published over 150 papers, and he is the co-author of four patents. He has managed several large research projects on model-based integration of embedded systems, model-based tool chains, fault-adaptive control technology, and coordinated scheduling and planning.
Acknowledgements
We acknowledge support from the following.